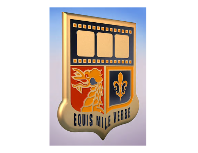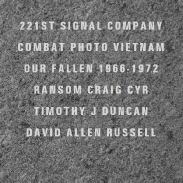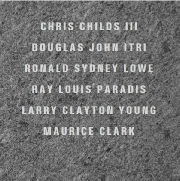 221ST SIGNAL COMPANY (PICTORIAL)
SOUTHEAST ASIA PICTORIAL CENTER
COMBAT PHOTO VIETNAM 1966-1972


Bronze Star Plaque for the Veterans Hall
Initially, we had a goal of $3500 to raise for 221st participation in the new National Museum of the US Army
now under construction at Fort Belvoir near Washington DC. But due to the extraordinary response from
our members, we raised far more than needed. As of 7/08/19 we have raised $8050. WOW!
As shown below, we already ordered (in Nov 2017) and paid for two 8" x 8" bricks ($500 each).
We also have ordered and paid for a Bronze Star Level plaque ($2500)
that goes permanently inside the Museum in the Veterans Hall.

So, previously, we have spent $3500 out $8050.
Back in Sept of 2018, the NMUSA started offering a "Unit Tribute" Plaque.
Unit Tributes will line the Path of Remembrance leading up to the Museum. The 12"x 18" plaques will honor individual Army units of any size and period of time. The plaques are engraved in polished Mesabi Black granite. Format and content of each unit's plaque is highly customizable, and can include a color rendering of the unit's Distinctive Unit Insignia and/or Shoulder Sleeve Insignia.
Below is an "artist conception" of what the "Path of Rembrance" will likely look like,
and a layout of how the 221st Signal unit plaque might look. We have yet to see a proof.
Unit Tribute Plaques are $5000. We were one of the first to order one.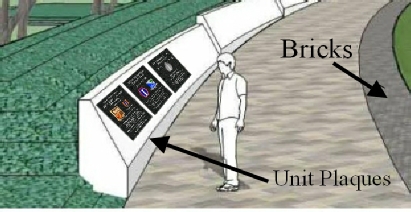 I've listed the names of all donors below.
If you made a donation and your name is not below
let me know: pberk@berks.com
Papurt *
Petlock *
Preecs *
Rifenbark *
Royce *
Ruth *
Saller *
Spickelmier *
Stanley *
Stewart *
Surgent *
N Thomas *
C Turner *
L Turner *
Van Epps *
Wekerle *
W Wilson *
Wingender *
Wolak *
Andescavage *
Barnes *
Berkowitz *
Berlin *
Berry *
Blocher *
Bird *
Boggs *
Breshears *
Buchman *
Conkle *
Critchfield *
Demchuk *
Ekstrand *
Erickson *
Essen *
Featherson *
Federal *
Fedynak *
Ford *
Frost *
Green *
Hamilton *
Henke *
Hinton *
Hollingsworth *
Jensen *
Jernigan *
Jolly *
Katz *
Kelly *
Kennedy *
Krull *
Lepore *
Linn *
Loehrer *
Lopez *
Mathis *
Milazzo *
Osborn *


Unit
Tribute
Plaque
Mockup